Barbara Eden, aged 91, recently graced the red carpet at a Beverly Hills event, leaving everyone amazed by her timeless beauty. While we all age, a few individuals seem to defy the years. Barbara Eden is undoubtedly among them. Born in 1931, she started her career in San Francisco, later transitioning to acting in Los Angeles.
Her fame skyrocketed with the iconic sitcom "I Dream of Jeannie." Remarkably, she's still actively working, recently playing Mrs. Claus in "My Adventures with Santa" and taking the stage as Melissa Gardner in "Love Letters." She attributes her youthful spirit to staying active and maintaining a healthy diet, confessing her love for steak, pork, chicken, and veggies.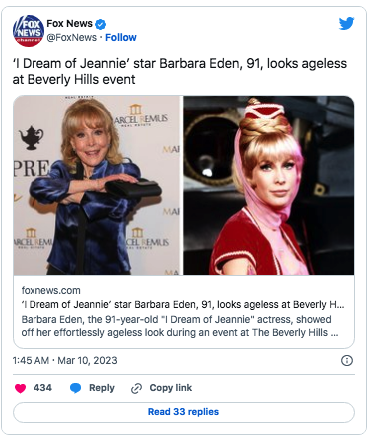 "I feel young!" Barbara told Page 6, adding that she considered herself lucky. "I feel sorry for people like my poor father who had to work every day at something he didn't like. I enjoy my work. I still work."
Barbara Eden's secret to staying young isn't just physical; she enjoys her work and maintains an active social life. Despite her age, she's committed to her fitness routine with the help of a trainer.
"I'm very careful about [my] diet," she mentioned. "I'm a carnivore… I like steak. We eat a lot of pork, chicken, steak [and] vegetables."