Wisconsin couple Carrie and Craig Kosinski welcomed their third set of twins, all born on the same day. Their journey started in 2013 when a woman approached them to adopt her twins. The Kosinskis embraced adoption despite planning for biological children.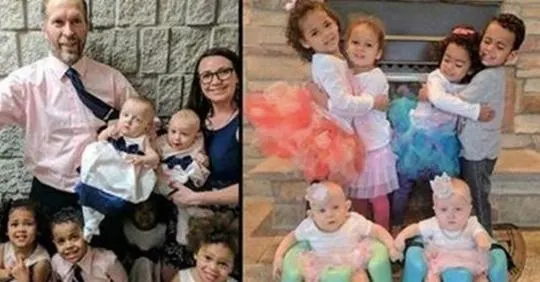 "She said she was pregnant and wasn't able to give the babies the lives they deserved and wanted to put them up for adoption," shared Carrie.
Their adopted twins, Adalynn and Kenna, arrived on Feb. 28, 2014 – the birthday of their biological siblings, JJ and CeCe, born the previous year. A year later, they adopted JJ and CeCe too.
In September 2015, Carrie learned she was expecting twins again. Unexpectedly, on Feb. 28, 2016, she underwent an emergency C-section after her water broke at 19 weeks.
Despite sharing a birthday, Carrie notes their uniqueness, saying, "They are all very different. Each has their very own personality."
They shared their story to inspire open-mindedness toward adoption, believing, "We were meant to adopt these children into our family."
The story went viral, with readers expressing well-wishes. "This is touching and definitely God-appointed," said one reader.