Heartwarming Bond: Little Boy Finds Support in Neighbor While Dad Is Deployed
Brian Kelly, a young boy whose dad is deployed to Syria, sought solace in his male neighbor, Dean Craven. Brian used to do yard work with his dad, so when he saw Dean outside working, he asked if he could help. Touched by the request, Dean gladly accepted. Recognizing that Brian missed his dad, Dean welcomed him to assist with yard work every day.
Their bond has grown beyond chores, with Dean teaching Brian to play golf and basketball. Through his kindness, Dean is not only filling the void for Brian but also supporting his dad from afar.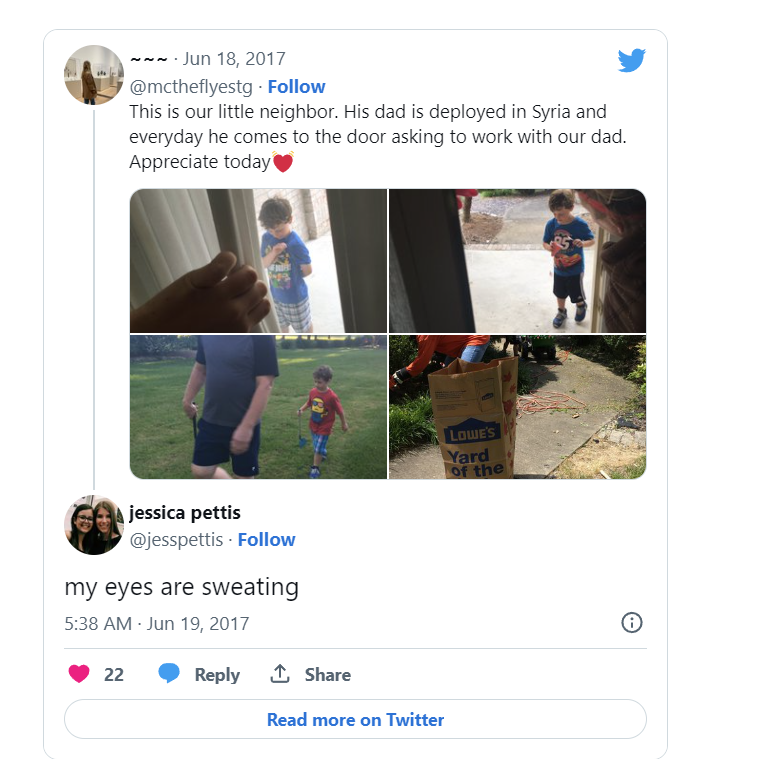 Molly Cravens, Dean's daughter, captured heartwarming moments of their interactions and shared them on Twitter. The tweet went viral, garnering over 20,000 likes and generating an outpouring of positive comments.
Brian's mom appreciates Dean's presence as a positive male role model while Brian's dad is away. Although the separation is challenging, the temporary situation is eased by Dean's kindness and support.
This story reminds us of the power of small acts of kindness and the importance of being good neighbors. By looking out for one another, we can provide solace and strength during difficult times.
This is our little neighbor. His dad is deployed in Syria and everyday he comes to the door asking to work with our dad. Appreciate today? pic.twitter.com/RdAHwh2Thm

— ~~~ (@mctheflyestg) June 18, 2017
To Brian, Dean's simple act of kindness means the world and serves as a reminder that even in the absence of loved ones, there are people who care.