K9 dogs are vital members of the police force, putting their lives on the line to protect people and maintain community safety alongside their human partners. These dogs not only serve as valuable assets but also form strong bonds with their handlers, functioning as both job partners and beloved pets.
Officer Decristoforo from the Central Falls Police Department experienced the loss of his K9 partner, Axel. Axel had recently retired from active duty and was living with Officer Decristoforo's ex-girlfriend.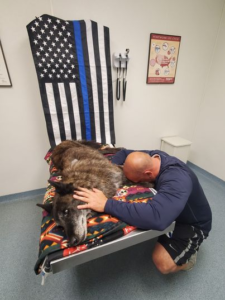 In a touching tribute, the local nonprofit animal group, Friends of Central Fall Animals, honored Axel's contributions as an exceptional officer. They highlighted Axel's commitment to keeping the streets safe and ensuring the well-being of fellow officers, regardless of the danger involved.
The post also emphasized the profound friendship between Axel and Officer Decristoforo. The two had an instant connection and stood by each other as best friends. A heartbreaking photo was shared with the officer's permission, capturing the final moments between Decristoforo and Axel. Friends of Central Falls Animals expressed their sympathy for the officer, acknowledging his deep love for Axel and the immense grief he must be feeling.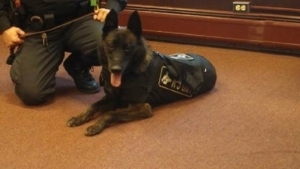 The bond between a police K9 and their handler is unbreakable, even in death. Although Axel may no longer be physically present, his spirit will always watch over Officer Decristoforo, ensuring his safety at the end of each shift. The officers who worked alongside Axel will remember him fondly, honoring his memory. Let us pay tribute to this devoted K9 and his companion by sharing their heartwarming photo as a symbol of their enduring bond.