Introduction
Warm up with a comforting bowl of Vegetable Beef Soup – a delicious way to utilize the vegetables stocked in your fridge. This hearty and filling soup combines tender chunks of protein-rich beef with an array of nutritious veggies, making it a versatile and satisfying meal.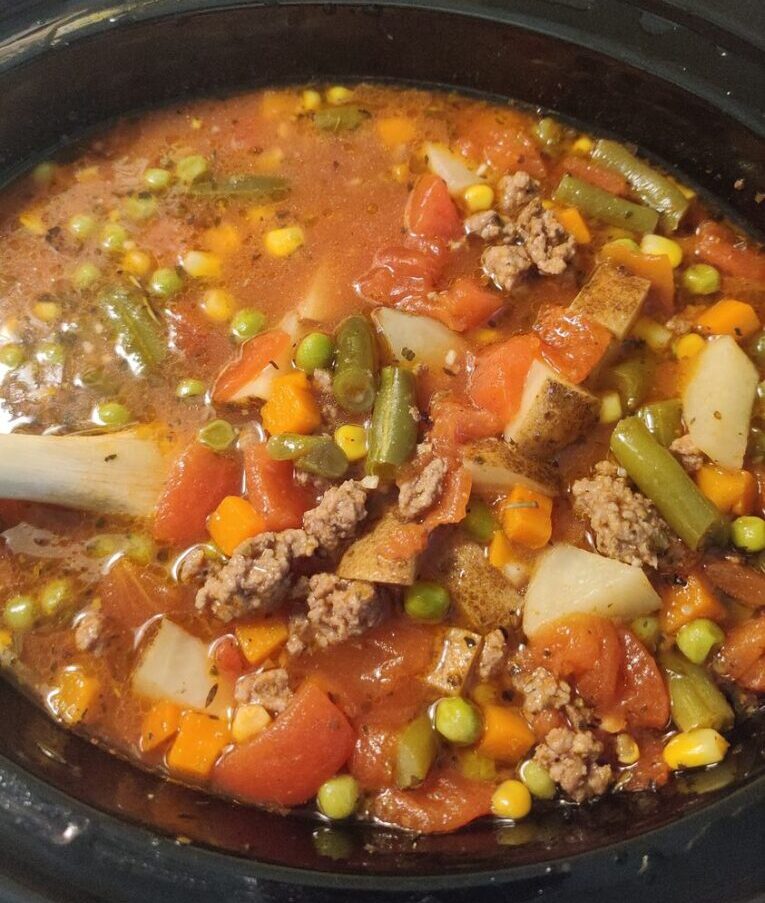 Ingredients
1 1/2 lbs beef stew meat
2 1/2 tablespoons olive oil, divided
Salt and freshly ground black pepper
1 3/4 cups chopped yellow onion (1 large)
1 1/4 cups peeled and chopped carrots (3 medium)
1 cup chopped celery (3 medium)
1 1/2 tablespoons minced garlic (4 cloves)
8 cups low-sodium beef broth or chicken broth
2 (14 oz.) cans diced tomatoes
1 1/2 teaspoons dried basil
1 teaspoon dried oregano
1/2 teaspoon dried thyme
1 lb red or yellow potatoes, chopped into 3/4-inch cubes
1 1/2 cups (5 oz.) chopped green beans (trim ends first)
1 1/2 cups frozen corn
1 cup frozen peas
1/3 cup chopped fresh parsley
Instructions
In a large pot, heat 1 tablespoon olive oil over medium-high heat.
Pat the beef dry with paper towels, season with salt and pepper, and add half of the beef to the pot. Brown the beef for about 4 minutes, turning halfway through. Transfer to a plate and add another 1/2 tablespoon of oil to the pot. Repeat the browning process with the remaining half of the beef.
Add another 1 tablespoon of oil to the now empty pot, then add onions, carrots, and celery. Sauté for 3 minutes, then add garlic and sauté for an additional minute.
Pour in the broth, tomatoes, browned beef, basil, oregano, thyme, and season with salt and pepper. Bring to a boil, then reduce heat to low, cover, and simmer for 30 minutes, stirring occasionally.
Add potatoes and continue to simmer, covered, for 20 minutes (you can also add green beans with potatoes if you prefer them very soft).
Stir in green beans and simmer for 15 minutes longer, or until all the veggies and beef are tender.
Pour in corn and peas and simmer until heated through, about 5 minutes. Stir in parsley and serve the soup warm.
Note: This Vegetable Beef Soup is a comforting and versatile dish that can be customized with your favorite veggies. The combination of tender beef and nutritious vegetables makes it a hearty and satisfying meal. Enjoy this flavorful soup as a nourishing option during colder days or anytime you crave a delicious, homemade bowl of goodness.